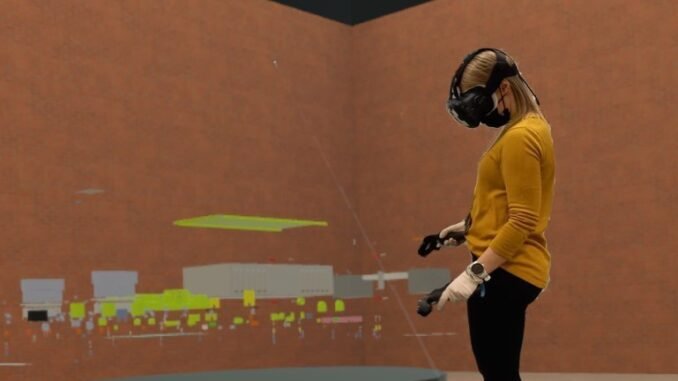 From our previous studies, we learned that users might face difficulties to access virtual environments, especially during a pandemic. In February 2021, when we were planning our second user test, we discovered most KONE employees abroad could not access the company facilities to use the head-mounted displays (HMD).  
Therefore, we decided to use these real-life challenges as a source of inspiration for our research. We created a study to analyze virtual reality as a tool to ease remote work for HMD and non-HMD users simultaneously. 
What did we do? 
Initially, we optimized our COVE-VR solution for HMD-use only. Hence, we had to adapt our virtual environment (VE) so that remote and HMD participants could simultaneously work in the VE. We did so by incorporating a video conference call to enable audio and video for the remote participants. In that way, the remote users could hear and see the work carried out in the virtual environment by the HMD users. This type of VR setup, where users interact with an application simultaneously using different platforms, is called asymmetric or hybrid setup. We use the term hybrid setup in this blog.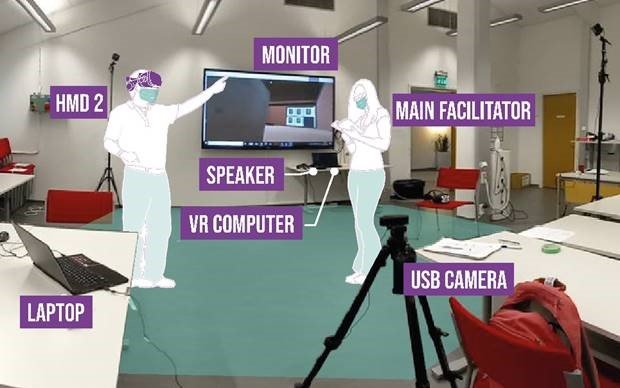 Once our setup was ready, we invited twenty KONE employees from Finland, China, India, and the USA to evaluate our VR system. In the user test, the HMD and remote participants conducted tasks in VR that resembled their work activities. Half of the participants were using HMDs and immersed in VR, the other half joined via Teams call from their laptops.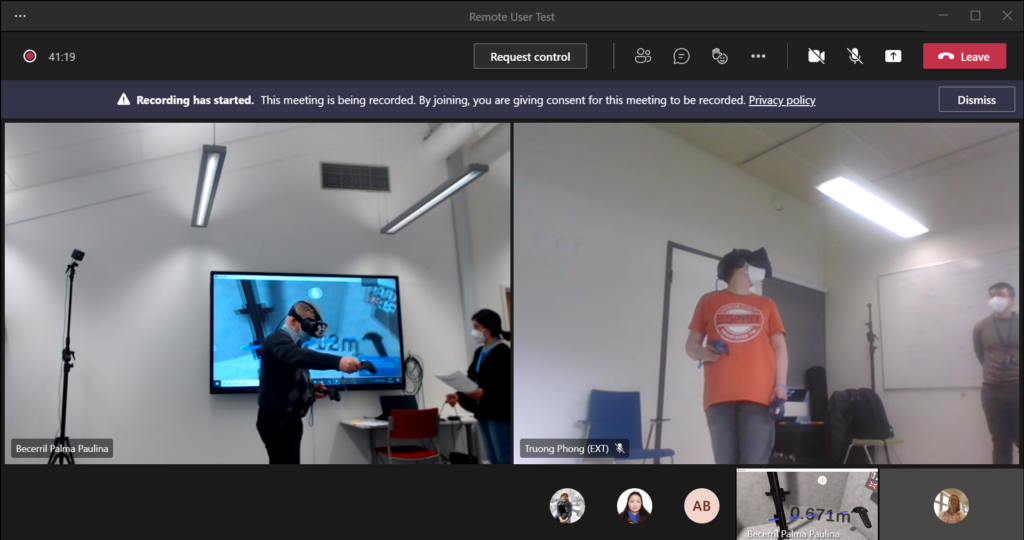 Hybrid VR in industry 
HMD and remote participants alike felt enthusiastic about collaboration in VR. Moreover, our study shows that our hybrid VR setup improved the collaboration between HMD and remote participants compared to in-person and traditional video conference meetings. In the same way, the participants felt this setup enabled them to conduct work meetings that were more efficient.  
On the other hand, we learned that we needed to optimize the experience, especially for the remote participants. The remote participants faced issues with the lack of control of their own VR view and the possibility to interact with the VR environment by themselves.  
Our study also identified several use cases where hybrid setups could immediately improve industrial tasks, such as training, maintenance methods assessment, and perform VR reviews in product development using 3D models. 
In conclusion, collaborative VR advances industrial tasks. The use of VR can be scaled with a hybrid setup, and hybrid setups are also easier to adopt for companies since they require less investment in hardware and are easy to take into use. 
Read more 
Becerril Palma, P. (2021). Enhancing lean and agile ways of working using an asymmetric multi-user virtual reality setup. Tampere University. Retrieved from http://urn.fi/URN:NBN:fi:tuni-202108276826 
Contact & more information: 
Tampere University:
Dr. Markku Turunen, Professor of Interactive Technology
markku.turunen@tuni.fi  
KONE Technology and Innovation:
Dr. Sanni Siltanen, Senior Expert in Innovation Engineering
sanni.siltanen@kone.com