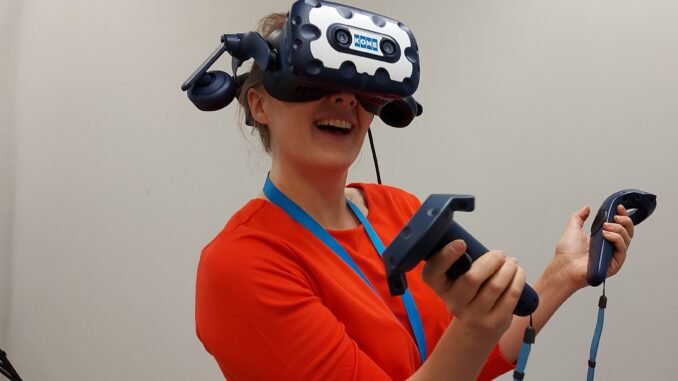 Virtual Reality (VR) environments designed for multiple users make it easier for remote product development teams to innovate. Our hybrid setup allows people to join a collaborative session either with a VR headset or via desktop. This makes it possible to involve a larger number of experts remotely, improving the quality and time-efficiency of innovation processes.
Innovating before producing a physical prototype
In our product development at KONE, the presence of a physical product or prototype is often an essential part of the innovation process. But what if the physical equipment is not accessible for some reason or other? Or what if a physical prototype does not exist yet? Can we innovate upon something that is not yet there? Yes, we can, with the help of multi-user virtual reality.
Scalable solution with a hybrid setup
When thinking about the scalability of multiuser virtual reality, companies often face budget challenges. For example, the VR headsets are still quite pricey, and thus it is not feasible to purchase VR headsets for occasional users. Yet, we want to include more people in the innovation process. How can we do that?
Together with Tampere University, KONE has studied hybrid VR setups. This means a situation where some people join with a VR headset and others via a desktop. Our studies show that hybrid setups can increase the benefits of a VR environment for non-VR participants. Therefore, by using a hybrid setup we can involve more people in the multidisciplinary innovation process, which enhances the quality and feasibility of innovations. Desktop participants can join directly in the VR environment with a desktop user interface. Alternatively, the VR session can be streamed via Microsoft Teams, which enables collaboration between on-site and remote participants, for example.
Asynchronous collaboration among different time zones
As a global company, our product development is executed in global end-to-end teams, and we would like to involve people located in different time zones into the innovation process. In addition, people tend to have calendars occupied and it is often impossible to find a common meeting time for everyone.
How can we collaborate in VR despite these challenges? The solution is to use an asynchronous VR setup. People may join the VR environment when it is convenient for them and leave notes, images, and video recordings for the next person to continue the work. It is similar to working on a shared document, but instead the people are working in a shared VR environment.
What is next?
In the future, we wish to turn multiuser VR into a day-to-day innovation platform for product development. It will make it possible to utilize the full innovation potential of KONE experts across the global organization. Are you interested to find out more? Please read the article below, or contact us for more information.
Sanni Siltanen, Hanna Heinonen, Alisa Burova, Markku Turunen. Reimagining innovation for remote, distributed teams with collaborative virtual reality, ISPIM Connects Valencia – Reconnect, Rediscover, Reimagine, 30.11-2.12. 2021. LUT Scientific and Expertise Publications: ISBN 978-952-335-691-7. https://www.proquest.com/docview/2617201221/fulltextPDF/EA4CE49E09F04470PQ/1?accountid=14242
Contact & more information:
KONE Technology and Innovation:
Dr. Sanni Siltanen, Senior Expert in Innovation Engineering
sanni.siltanen@kone.com
Tampere University:
Dr. Markku Turunen, Professor of Interactive Technology
markku.turunen@tuni.fi